Get to know your 2018-2019 PTSA Board!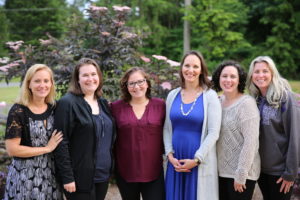 Hello! My name is Shelly Campbell and I am excited to be Stillwater's PTSA president for the second year. I have a daughter named Ally that is in 5th grade, and a son named Brad in 8th grade at Tolt Middle School. My family and I moved to Duvall 3 years ago from Kirkland but are originally from Sugar Land, Texas. We love living in Duvall! Before becoming president last year, I was Co-Social Chair. I love being a part of social events for our school! Bringing our community together is so much fun! We have so many talented volunteers on our leadership team that have signed up to do many great things this year. Our PTSA could not run without every volunteer. I am looking forward to working with each one of them to help make our school the BEST for our kids and families!
My name is Lindsey Tolson and I have a son in 5th Grade, another son in 3rd Grade and a 1 year old daughter at home. I joined the PTSA board in December of 2014 and have since been honored to serve on the board as president and treasurer. This year I am excited to volunteer my time as Vice President for Stillwater PTSA and President for Riverview PTSA Council. I have a bachelor's degree in Mathematics and I worked as an industrial engineering manager in Seattle for 7 years before leaving to project manage the Tolson household. My family moved to Duvall when my oldest was a 1st grader and we absolutely love this community and Stillwater.
Hello! My name is Rachel DelCarmen and this is my first year as the treasurer for the PTSA. My son, Liam, is in 3rd grade and my other son, Kieran, is in kindergarten. I have loved being a part of the Stillwater community. In our first three years at Stillwater I've been more active volunteering in Liam's classroom but our family always enjoy attending the PTSA events. I appreciate the work the PTSA has done to lead the fundraising efforts of our school and I'm amazed by what as a community we've been able to give back to the students and the school. I'm excited to have an opportunity that fits me and allows me to contribute to this work! Go Stillwater Hawks!
Hi, my name is Rebecca Manjarrez and I am serving as Secretary for the first time this year! In the past 3 years I've served as co-communications chair. I have one son, Brenden, a Senior at Cedarcrest and one daughter, Aaliyah, in Miss Hinton's 5th grade class here at Stillwater. Even between my full-time day job and businesses, as well as serving on the Cedarcrest Select Basketball board, I am grateful to be communicating with you all about our monthly events in our newsletter, on Facebook and compiling the student directory. I love that I can be a part of our close-knit Stillwater community, even if it's mostly behind the scenes. Welcome back!
Hi, my name is Carmen Love and I'm happy to be returning as Membership Chair for my second year and I am super excited to be Social Chair! I love overseeing events and doing fun things for the kids.
I have a 4th grade son and a 2nd grade daughter. We have been at Stillwater since the beginning and couldn't imagine being anywhere else. I'm so thankful for the PTSA and what it provided to our kids and our community! I look forward to meeting new people and sharing in our PTSA and Stillwater adventures!
Hi, my name is Monique Linz and I am the Fundraising Chair. This is my Fourth year at Stillwater! I have twin daughters in 3rd grade, a son in Kindergarten this year and a toddler at home. I'm a stay at home mom who wants to be involved with my kid's education so I stepped up to be part of the PTSA a few years and have enjoyed all the new experiences and friendships it has offered.
Please let us know if you have any questions!

Print This Page