WHEN:
Wednesday, May 17th from 2-3 PM
WHERE:
Stillwater Playground/Track
WHO:
All Stillwater Hawks
WHAT:
The Hawk Walk is a 100% Donation Based Fundraiser! All profits go directly to the PTSA to benefit our students and school.
GOAL:
The suggested minimum fundraising goal per student is $30. The school goal is $10,000! We can do it! We made over $14,500 last year during the Hawk Walk! View Classroom Goals.
Prizes!!!!
Every classroom has been assigned a class goal based off of the number of kids in each class. Please see additional flyer for your student(s) classroom goal or visit online. Every class that reaches their goal will earn a Snow Cone Party! Please note that special consideration will be made for those all-star students that go above and beyond but the class does not reach the goal.
The top 2 earners in each grade will team up to compete* for a chance to win cash in a live action game of Human Bowling at a spirit assembly on May 19th! In addition, the top 2 earners will be invited to a Pizza Lunch with the Principal event where Mr. Madigan will serve them Red Pepper pizza. *If a top earner does not want to play Human Bowling, they can choose a friend to play for them.
Every student that raises $30 or more, which is the suggested minimum, will be entered into a drawing on Friday, May 19th to win some fun prizes, including some tickets to the Pizza Lunch with Mr. Madigan!
And last but certainly not least…if the school hits the $10,000 goal, Mr. Madigan has assembled a team of staff members ready to compete against students from every grade level in a Super Relay Challenge**. Every student that collects ANY amount of donations will be entered to win a chance to be one of the students from each grade level selected! Five students from EACH grade will be selected, that's 30 students! The winners will be announced after the Hawk Walk on May 17th – parents will then need to confirm their child's participation (as long as the school achieves the $10,000 goal). **During the Super Relay Challenge, Mr. Madigan's team of staff members will compete against each grade level in 1 fun relay challenge, this means there will be 6 total relay challenges, points will be awarded after each challenge. The 5 staff members will compete in 1 relay challenge against the 5 selected kindergartners, then those kindergarteners will sit down and the staff will compete against the 5 selected 1st Graders, and so on and so on. Once all 6 of the challenges are complete, if the Students have more points than the Staff, then the entire school wins an EXTRA RECESS!
Important Logistics:
Fundraising envelopes (and online donations) can be turned in anytime between now and Wednesday, May 17th. Any donations received AFTER May 17th will not be counted towards the prize totals.
Envelopes will not be given back to the students once they are turned in, so make sure your donations are complete or you will have to send in any additional donations in a regular envelope marked with your child's name, teacher and grade.
Please check our Facebook page daily to see the progress of classroom goals and the overall school goal. You can find our group on Facebook under the name Stillwater Elementary PTSA. We will start providing daily updates on May 12th.
While corporate matching is an integral part of our fundraising strategy plan, because we do not receive the matching funds until well after the event is over, we do not count promised corporate matching funds towards the top earner numbers, classroom or school goals.
When your sponsors ask what the donations will be used for, you can use the information below to tell them about all the activities that the PTSA provides to Stillwater.
A full breakdown of our budget and fundraising strategy can also be found online on our website at http://stillwaterptsa.org/ptsa-budget/. Here are just some of the programs we support:
Art Docent & All Arts Day
Field Trip Stipends for ALL Grades
Field Day
Library, PE and Music Enrichment
The Dance Guy and School Dance
Assemblies
Family Fun Nights
School/Staff Grants
Playground Updates
If you have any questions please contact Monique Linz or Lindsey Tolson at fundraising [at] stillwaterptsa [dot] org.
Important Details for the Day of the Hawk Walk:
All students will head out to the Stillwater Track shortly before 2:00 PM to line up for the Hawk Walk. Students and Staff will then walk/run around the track from 2:00 – 3:00 PM.
Thanks to business sponsorships from Nicole Ji at NJ Real Estate, Gayle Stevens at Remax, Dr. Glickman at Great Smile Dental, and LeAnn Barret from Remax, the staff will be walking/running for $1 a lap!

We are excited to announce that for the first time ever, thanks to a sponsorship from Bae Bae Cakes, Blitz, the Seattle Seahawks Mascot will be at the Hawk Walk until 2:45 PM to cheer on the students!!!!
Also new this year, we will be offering several OPTIONAL obstacles for the students to transverse if they choose to: running through bubbles, climbing over hay bales, army crawling, and running through a balloon tunnel. If a student does not wish to participate in these obstacles they will be directed to walk/run around them.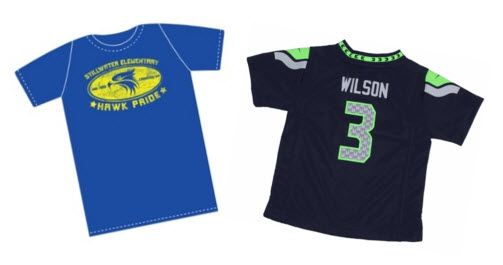 In honor of Blitz, we are asking all students and staff to dress with Hawk Pride unlike in previous years where each grade wore a different color. This means you can sport your Seahawks gear, Stillwater gear or wear the colors of either – blue, green or yellow. Also, please ensure your students have their walking shoes on!
The PTSA will have several water stations set-up and will also be passing out treats to all students at 3 PM when the Hawk Walk ends.

Print This Page