WHEN:
Wednesday, March 21st from 2:15 – 3:15 PM, Kick Off Celebration with Blitz starts at 2pm. Sponsored by The Irwin Group!
WHERE:
Stillwater Playground/Track
WHO:
All Stillwater Hawks
WHAT:
The Hawk Walk is a 100% Donation Based Fundraiser! All profits go directly to the PTSA to benefit our students and school.
GOAL:
The suggested minimum fundraising goal per student is $30. The school goal is $12,000! We can do it! We made over $15,000 last year during the Hawk Walk! View Classroom Goals.
Prizes!!!!
Every classroom has been assigned a class goal based off of the number of kids in each class. Please see additional flyer for your student(s) classroom goal or visit online. Every class that reaches their goal will earn a Root Beer Float Party! Please note that special consideration will be made for those all-star students that go above and beyond but the class does not reach the goal.
The top 2 earners in each grade and 6 Wild Card Winners (one from each grade*) will team up to compete** for a chance to win Gold, Silver or Bronze medals in an Olympics themed Relay Race at the spirit assembly on March 28th! The Top Earners will be on a team, the 2nd Top Earners will be on a team and the Wild Card winners will be on a team. In addition, the top earner in each grade AND a wildcard guest per grade randomly selected from a pool of students who fundraised the minimum amount of $30 will be invited with the Principal in an event where Mr. Madigan will cook them a tasty breakfast.
*For the 6 Wild Card Winners, one student per grade will be randomly chosen from a pool of students that fundraise any amount of money. **If a top earner or wild card winner does not want to compete in the Olympics Relay, they can choose a friend to play for them.
Every student that raises $30 or more, which is the suggested minimum, will be entered into a drawing on Wednesday, March 28th during the spirit assembly to win some fun prizes!
And last but certainly not least…if the school hits the $12,000 goal, Mr. Madigan and Mr. Hammons will play Cooler Heads during the spirit assembly on March 28th. Cooler Heads is a trivia game with a twist. One at a time they will each be asked a trivia question, if they get the trivia question right their opponent gets a beverage cooler filled with a mystery ingredient dumped on their head. But if they get the trivia question wrong, then they get the mystery ingredient dumped on their head. It's going to be so much fun to watch and messy! ☺

Important Logistics:
Fundraising envelopes (and online donations) can be turned in anytime between now and Wednesday, March 21st. Any donations received AFTER March 21st at 4pm will not be counted towards the prize totals.
Envelopes will not be given back to the students once they are turned in, so make sure your donations are complete or you will have to send in any additional donations in a regular envelope marked with your child's name, teacher and grade.
Please check our Facebook page daily to see the progress of classroom goals and the overall school goal. We will start providing daily updates on March 15th.
While corporate matching is an integral part of our fundraising strategy plan, because we do not receive the matching funds until well after the event is over, we do not count promised corporate matching funds towards the top earner numbers, classroom or school goals.   However, we do have a prize drawing in June for every corporate matching donation
we received with a name attached during the current school year, the family associated with the winning corporate match will receive a $75 Red Robin gift card.
When your sponsors ask what the donations will be used for, you can use the information below to tell them about all the activities that the PTSA provides to Stillwater.
A full breakdown of our budget and fundraising strategy can also be found online on our website at http://stillwaterptsa.org/ptsa-budget/. Here are just some of the programs we support:
Art Docent & All Arts Day
Field Trip Stipends for ALL Grades
Field Day
Library, PE and Music Enrichment
The Dance Guy and School Dance
Assemblies
Family Fun Nights
School/Staff Grants
Playground Updates
If you have any questions please contact Monique Linz or Lindsey Tolson at fundraising [at] stillwaterptsa [dot] org.
Important Details for the Day of the Hawk Walk:
All students will head out to the Stillwater Track at 2:00 PM for a Kick Off Celebration with Blitz, sponsored by The Irwin Group! Each class will be selecting 2 students to be apart of the Kick Off Celebration. ***Please note: Blitz is a guest at our school, and whether or not you are a Seahawks fan, everyone needs to display the Hawk Mindset when interacting with him!***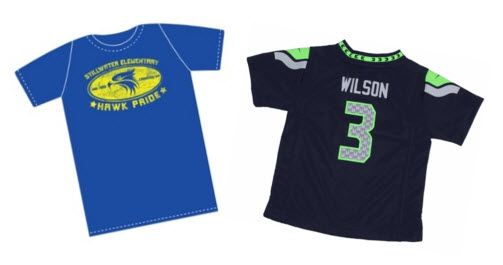 In honor of Blitz, we are asking all students and staff to dress with Hawk Pride. This means you can sport your Seahawks gear, Stillwater gear or wear the colors of either – blue, green or yellow. Also, please ensure your students have their walking shoes on!
The PTSA will have several water stations set-up and will also be passing out treats to all students at 3:15 PM when the Hawk Walk ends.
The Hawk Walk will be happening rain or shine! So check the weather and dress appropriately. But everyone think happy sunshine thoughts!
We'll have music and an MC and the kids will have a BLAST walking/running the track to show off their Hawk Pride as an entire school.
*The Hawk Walk was moved from May to March to alleviate the conflict with testing that occurs during May.