Great job Stillwater Hawks, we surpassed our goal of $13,000 for the Hop-a-Thon with a RECORD BREAKING grand total of $21,611.31 (this number includes donations that came in after the event and staff sponsorships). WOW!
We want to thank the five local businesses that sponsored our staff jumps: Alive Electric, The Irwin Group, Homerun Reality, New American Funding and My Fair Lady Skincare. These businesses all together pledged just over $1,000 if the staff could complete 7,500 jumps at the Hop-a-Thon and they did 8,570 jumps! Way to go staff and thank you sponsors!
We are excited to announce that thanks to your fundraising efforts, we were able to gift $8,167.93 in November for teacher and school grants!!!! This money will be used to purchase classroom books for K and 2nd grade, math learning kits for 1st grade, new radios for the front office, raincoats for safety patrol, and headphones for kindergarten. Plus retroactively pay for some of the expense related to the PBIS (Positive Behavior and Intervention Support) model that was rolled out this year. These were all from grant applications that were submitted to the PTSA in October and November by the staff.
The remaining funds raised go to support the general PTSA budget which has over 100 line items. Full details on our budget can be found on our website: http://stillwaterptsa.org/ptsa-budget/. At our December 5th general meeting we will vote on some changes to the budget due to the success of the Hop-a-Thon and resulting opportunity that gives us to modify our fundraising plans for the remainder of the year. Stay tuned!
Here are a few important reminders now that the fundraiser has wrapped and we hit our goal.
1) We had a spirit assembly on November 15th to celebrate the success of the fundraiser where 3 students and 3 staff members challenged Mr. Madigan to a game of Egg Head and the 12 Top 2 Earners per Grade played Tic-Tac-Toe Relay.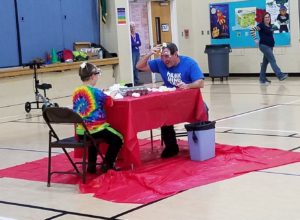 2) Prizes were awarded to 15 students randomly selected from a pool of the students that fundraised $35 or more.
3) For the first time ever, ALL classes hit their fundraising goal and are receiving ice cream parties this week!
4) All donations to the PTSA are tax deductible, don't forget your donation next year during tax season. If you require a receipt for a cash donation please e-mail fundraising [at] stillwaterptsa [dot] org.
5) While corporate matching is an integral part of our fundraising strategy plan, because we do not receive the matching funds until well after the event is over and we receive no breakdown with the lumped check(s), we do not count promised corporate matching funds towards the top earner numbers, classroom or school goals. But please still enter your corporate matches, they are built into the general fundraising plan.
If you have any questions please contact fundraising [at] stillwaterptsa [dot] org. Thank you again!