June General Membership Meeting Recap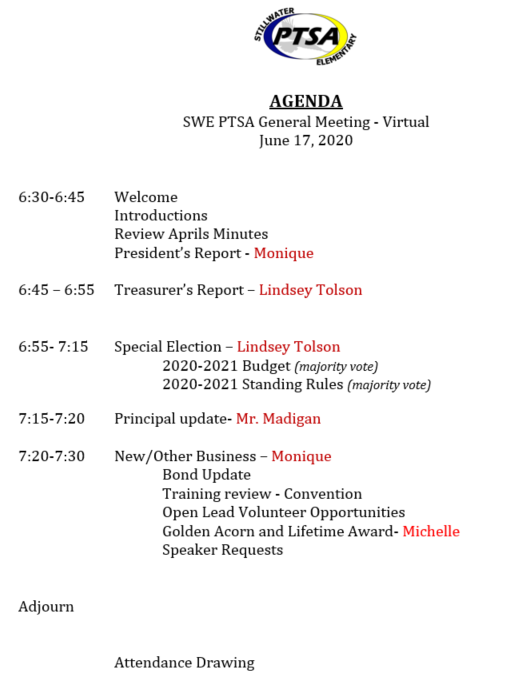 On Wednesday, June 17th we had our last General Membership Meeting of the year over Zoom. Here is a recap of the meeting, if you have any follow-up questions please reach out to Lindsey Tolson via tres@stillwaterptsa.org.
Topics Covered in Order of Agenda:
1) President's Update – the 2020-2021 board of directors had their planning retreat at the beginning of June. There are a lot of unknowns as we go into next year: can we even have social events or if we can have social events will we have to limit attendance, can we have our normal fundraisers the Hop-a-Thon and Hawk Walk or do we need to adjust and have them over multiple days to account for social distancing or do we need to come up with at home fundraisers like virtual runs or raffles, can volunteers be at the school, etc… The board made a conservative yet optimistic plan for 2020-2021 and we know that once the official guidance comes out from the district that we will need to reconvene and update plans, probably multiple times throughout the year. We thank our members and the Stillwater community for their continued support.
1) Review of April's Minutes, minutes can be found on our website. No questions or changes and minutes were filed.
2) Current Treasurer's Report was reviewed (covers any deposits/withdrawls since the last General Mtg in April), no questions and report was filed. Of special note, only half of the Playground Equipment funds have been spent as a down payment. The other half is scheduled to be spent over the summer when the install is supposed to happen. We are working through an installation plan with the playground company and the district and are staying optimistic that the installation can still move forward as planned. Stay tuned!
3) Special Election:
2020-2021 SW PTSA Proposed Budget was reviewed and voted into place. Again, this is a based off a conservative yet optimistic plan for 2020-2021 that we know will need to change when official guidance comes out from the district. Any income or expense plan that varied from this year's plan were highlighted in yellow and the reason for the change was reviewed. Questions? tres@stillwaterptsa.org
SW PTSA Standing Rules 2020-2021 – Proposed were reviewed and voted into place. There were zero changes to the 2019-2020 standing rules, we voted to keep the same standing rules but to update the date.
4) Principal Update – Mr. Madigan joined the meeting to talk about the OSPI's latest discussions surrounding school next year (similar information to what has been shared via email by the superintendent), Stillwater's response to remote learning this year, and how the district knows that for remote learning to continue next year that parents/students need 1 platform for learning and not 10 different websites to login to and keep track of. Mr. Madigan let everyone know that our beloved custodian, Todd Russell, was transferring to Tolt. And while there are no additional classes being added next year (yet), that they have moved teachers around internally between grades.
5) Bond Update – at the May PTSA Council (district level PTSA) General Membership Meeting, the superintendent was on hand for Q&A and he relayed that the current plan for re-running the bond is February of 2021. RSD is working to reduce the ask per property owner from $1.09 to 54.5 cents per $1,000. This involve a combination of strategic financing and using saved capital to undertake urgent needs right now.
6) Training Review – Convention. The virtual WSPTA Convention held in May was briefly reviewed, a full review can be found on our website. We highlighted and thanked our staff and membership chairs for the 100% Staff Membership award we received at convention, we also highlighted and thanked Michelle Berens (our awards lead) who applied for WSPTA Awards of Excellence on behalf of our PTSA, and we were recognized in 4 categories at convention.
7) Open Leadership Team Volunteer Opportunities – openings in Reflections and Art Ed Chair were reviewed.
8) End of year volunteer awards – we recognized and thanked two 5th grade parents with end of year awards. Karen Wright is our Golden Acorn Award winner and Ann Marie Gill is our Honorary Lifetime Membership award winner. Please read about these amazing parents and their contributions to Stillwater on our website.
The meeting was then adjourned and 8 attendees received Amazon or Starbucks digital gift cards as door prizes! Thank you to everyone who joined the meeting and/or read the recap. Have a fun and safe summer!