May Volunteer of the Month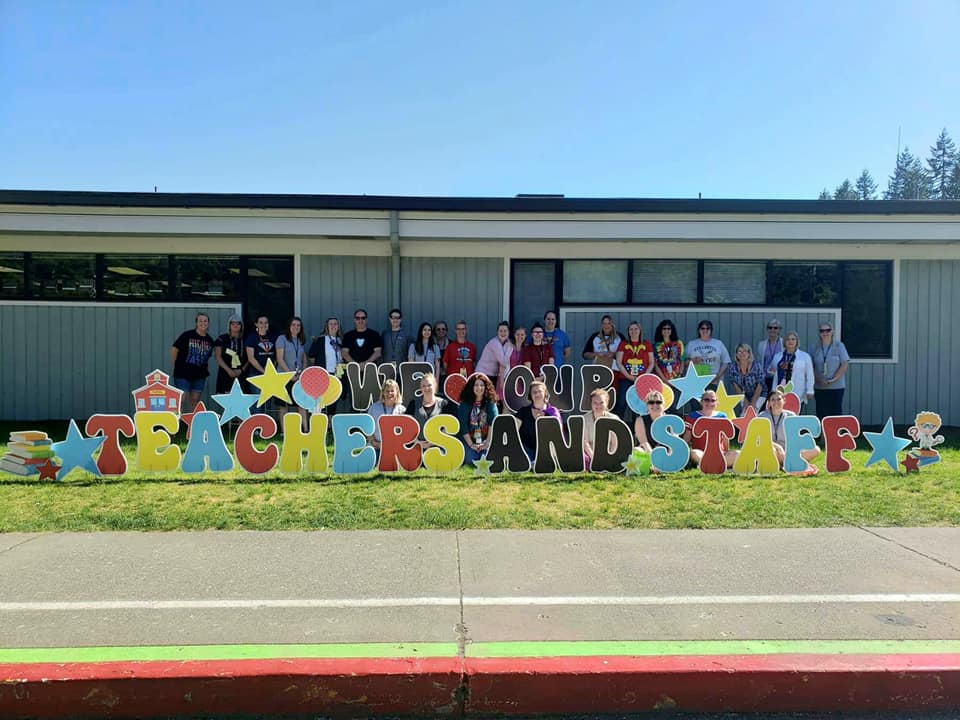 May Volunteer of the Month
Staff Appreciation Week Committee
Jen Coffey, Karen Wright, Felicia Berg, Lori Rush, GhostStar Morgan, Michelle Berens, and Chelsea Krause
The staff appreciation week committee was nominated by Lindsey Tolson and voted on by the PTSA Board of Directors. Here is what Lindsey had to say about the committee.
"I am nominating the ladies from the Staff Appreciation Week committee for volunteer of the month. This group (and their volunteers) worked their tails off to bring a super week of fun and appreciation to Stillwater. They started meeting in January to plan the framework for the week and set the day of week activities. Everyone on the committee took on a lead volunteer role, owning a different aspect of the week.
Jen Coffey returned for the THIRD YEAR as our amazing decorations lead! She spent months planning her design for the front entryway, front office and staff lounge. She really brought the superhero world to life! Karen Wright, our special projects chair oversaw communications and Soup & Salad lunch. She also took on volunteer shifts pretty much every day of the week. You rock Karen! Felicia Berg was our notes of appreciation lead, all those thank you notes you saw taped around the hallways, that was Felicia. She designed the notes and went out to recess over several days to get the kiddos to fill them out. She also baked delicious goodies for the staff to enjoy. Lori Rush was our sub sandwich lunch lead. She coordinated the supplies necessary to feed all staff members a sub salad lunch and she was there volunteering that day to set it all up! Thank you Lori! GhostStar Morgan was our taco bar lead. Her family business, Alive Electric donated funds towards an Ixtapa Taco Bar. It was a BIG HIT with the staff! GhostStar also worked with Karen to build those amazing raffle baskets the staff all had a chance to win, she procured a lot of great prizes from local businesses. Super job GhostStar! Michelle Berens returned as our Friday lunch lead, this year choosing a picnic theme. She served the staff pulled pork sandwiches, chicken salad, fruit, cheese and crackers and more. Yum!!!! Last but certainly not least, Chelsea was our beverages lead. She coordinated the Italian soda deliveries that we had over two of the days, the coffee and smoothie offerings on two of the mornings and all the cold beverages we had set out throughout the week.
Thank you Staff Appreciation Week Committee for all of your hard work! The staff greatly appreciated the love and spoiling they got during the week and it all started with your vision."
We asked the committee what their favorite part of the week was:
Jen: "My absolute favorite part of SAW is helping our staff know how much we truly appreciate all they do for our children. I also love being a part of decorating the school for a weeklong celebration! I love seeing the reactions of the staff when they come in and see the school transformed for one big week long party in their honor!"
Karen: "I love making & seeing the staff happy each day, and making them feel special. We have an amazing staff at SWE and they deserve every tokens of appreciation they receive!"
Felicia: "My favorite part of SAW is how we all come together to make it special for the staff. From the thank you notes the kids help make to all the food provided and made and of course the car washes. This is a special time for them but for me too, I love seeing how happy they are. I'm so grateful for everyone that dedicates to the awesome children of Stillwater."
Lori: "It was fun to see everything come together, from all the planning to the set up and then the assistance and generosity of our Stillwater families and community to create an awesome week for our well-deserved staff."
GhostStar: "My favorite part of staff appreciation was working with the rest of the volunteers to create a special week for the staff."
Michelle: "Being able to do something special for our amazing staff."
Chelsea: "My favorite part about SAW is seeing how happy the teachers are each day and seeing them feel how loved they really are. I'm so thankful my kids get to go to Stillwater to experience the love and care each teacher and staff member pours into our school and children. I'm just thankful I get to help them feel appreciated during SAW week."
Jen has 2 daughters, Luna (9) and Milly (7). She has been volunteering at Stillwater for 3 years now and her favorite volunteer activity is helping coordinate the Talent Show. "Helping create a fun show for our kids to get up on stage and bravely show their talents is incredibly rewarding!" When she isn't at school or work you'll find her in the garden.
Karen has 2 daughters, Katelyn (11) and Charley (9). She has been volunteering at Stillwater for 3 years and she doesn't necessarily have a favorite volunteer activity, because she loves being involved in all things PTSA at Stillwater.
Felicia has 1 son, Xander (9). She has been a volunteer at Stillwater for 4 years and for her favorite volunteer activity, "it's hard to pick one. It really is when ever I get to see the children having a good time is my favorite and parents too, I like seeing everyone have a great time. We throw awesome events and I'm glad I get to be a part of it!"
Lori has 2 daughters, Kendall (5) and Josie (3). This is her first year volunteering at Stillwater and she really enjoyed helping during Staff Appreciation Week but she has also had fun helping with Popcorn Thursdays and Art Docent.
GhostStar has 2 kiddos, Olivia (6) and Logan (4). This is also her first year volunteering at Stillwater and so far she has enjoyed helping with Staff Appreciation Week the most!
Michelle has 2 children, Nick (10) and Audrey (8). Michelle has been volunteering at Stillwater for 5 years and her favorite volunteer activity is Art Docent.
Chelsea has 2 twin boys, Colton and Bryson (7). Chelsea has been volunteering at Stillwater for 2 years and her favorite volunteer activity is helping with the fundraising spirit assemblies. "Its so fun to watch all the kids enjoy themselves and laugh! A close second is getting to be in my kids class, I love getting to be with them for a short time during the day!"
Thank you Jen, Karen, Felicia, Lori, GhostStar, Michelle and Chelsea for all that you do to support Stillwater and our community!! Congrats on your nomination and win!
Volunteer of the Month will return in the fall! You can always nominate a volunteer here: https://stillwaterptsa.org/volunteer-month-nomination/