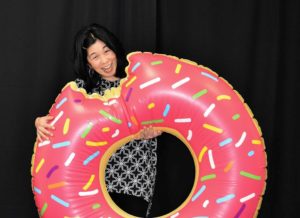 Congratulations to our February PTSA Featured Volunteer of the Month, Kristine Nelson. Kristine was nominated by Monique Linz and Mindy Smith and voted on by the Executive Board. Here are a few things that Monique and Mindy had to say about Kristine:
""The Dads and Donuts turned out amazing! Kristine is an excellent volunteer and you never have to worry if things are getting done. She's amazingly reliable, organized and a great person to work with."
"Kristine was asked to be our Lead Volunteer for Dads And Donuts. She took on the role with great enthusiasm. She planned and organized the entire event. Kristine is very detail oriented and by far exceeded the PTSA Board expectations. The event turned out record numbers with attendance. She also incorporated a dodgeball activity, which was a hit! Kristine is an amazing volunteer and an asset to Stillwater Elementary School. Thanks Kristine!"
Kristine and her husband Jeff have three boys at Stillwater; Micah (10), Owen (8) and Andrew (6). Kristine has volunteered at Stillwater for the past 5 1/2 years. She has volunteered for the PTSA in several areas including leading and organizing the Back to School BBQ in 2015 and our Dads and Donuts event this year. Her favorite place to volunteer is in her sons' classrooms. She said, "I love serving as the banker in Mrs. Olson's 2 nd grade class. It's fun interacting with the students, seeing their smiles, and watching them grow their counting skills." Kristine loves to serve and volunteer her time. She also volunteers in her church as a Sunday school teacher for K/1 st grades and as a Cub Scout Committee Chair for Pack 568.
Kristine works as a licensed CPA who owns & operates a tax practice and is also a wannabe writer. When she is not working or volunteering she enjoys "spending time with my family and friends, running (while jogging really), cooking, gardening, and reading. She also enjoys living her life as a minimalist.
Kristine did an amazing job with our Dads and Donuts event and has signed up to lead the event next year. We are so grateful for Kristine and her wonderful organization skills and attention to detail. We could not put on these events without volunteers like Kristine. You might be wondering, "What is her favorite kind of donut?" Well, she enjoys a good maple bar.
Thank you Kristine, for all the things you have done for Stillwater and the PTSA. When you see Kristine at the school, make sure to congratulate her and thank her for all she does for Stillwater Elementary. Feel free to bring her a maple bar and/or a pumpkin latte, her favorite Starbucks drink.
If you would like to nominate a volunteer of the month, please fill out the form.